E-Learning Translation – Every Key Aspect of Production
|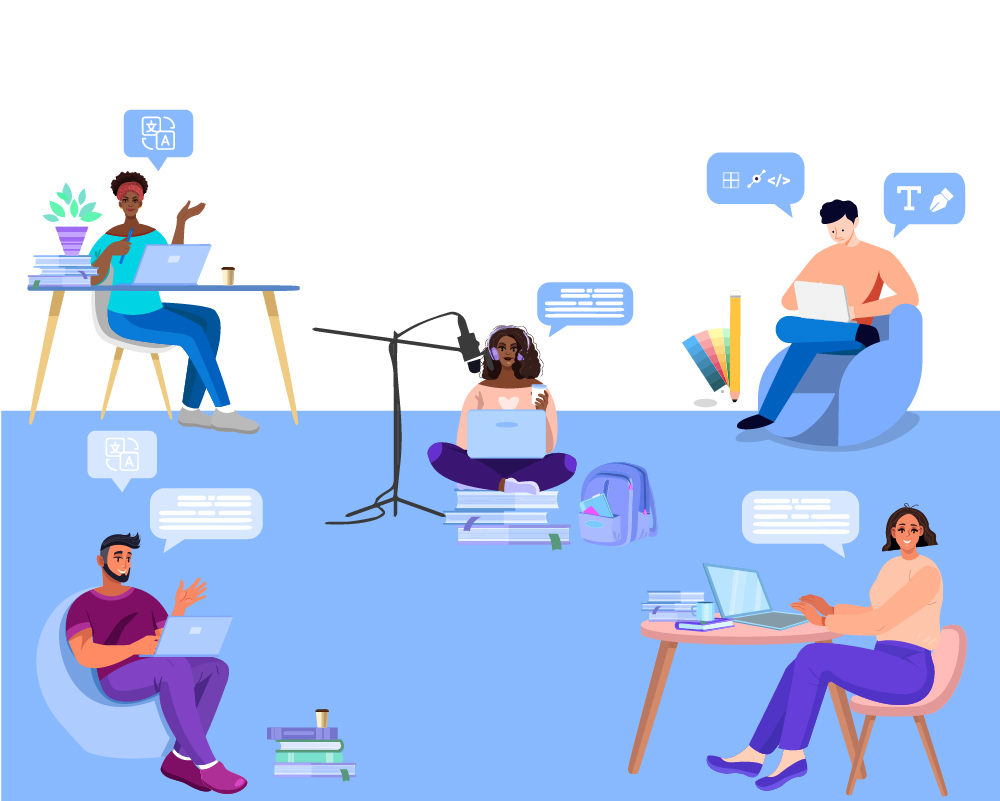 What comes under the "e-learning" umbrella of services at Pangea Global? Read on to find out what key aspects of production are involved to help your e-learning project achieve a global reach…
Translation
At Pangea Global, translation is at the heart of everything we do. As expected, our primary service is also applied to e-learning. We translate and localize your entire e-learning project from beginning to end so that the content is adapted for multilingual users. From text, slideshows and all the way to videos and other multimedia content, we select native and qualified linguists to handle your content and make sure it is appropriate and fluent for target speakers.

Translating your e-learning project makes your educational content available to current or potential overseas students, trainees or employees. Whatever language is required, we've got the talent, tools, and capabilities to transform the language of your e-learning project.


Subtitling
If your e-learning project has video or audio that's currently only accessible for one or few global markets, we offer subtitle services to help distribute your materials to more locales. Whether you need to target a Chinese or Spanish market, Pangea Global has the talent and technical capability to provide subtitles and translate your message in a variety of languages. Our linguists accurately and professionally translate the dialogue and audio of your multimedia, whilst maintaining the original tone, style, humour, and context. By doing so, you will attract students and employees from all over the world and build trust with your overseas users.

Whether it's a webinar, tutorial or video, Pangea Global will add and/or translate subtitles so that your e-learning multimedia maximises reach across borders.


Voice overs
Other than multilingual subtitles for your video and audio content, there is also the option of incorporating voice overs
. Whether you want to add brand new voice overs to your materials or if you have existing ones, our team of top-tier talented specialists will localize your audio/video script and professionally record it so that your project caters to any local audience. Pangea Global ensures to select fluent, eloquent and professional-sounding voice over artists that strive to make sure the recording is equivalent to the original sound and/or matches what is displayed on-screen.

Voice overs can be applied to any aspect of your e-learning project including videos, animations, audiobooks or presentations. Translating and localizing such e-learning content can achieve global engagement and increase user satisfaction at impressive scales.


Copywriting
Copywriting is yet another service that is at the core of what we do. It is in fact incorporated in most, if not every area of your e-learning materials. Text is everywhere, from headings, to articles, to presentations, slideshows and more. With our copywriting services, you can include unique, catchy and professional copy in your projects either in English or any of your desired languages. Simply tell us what tone, style and level of creativity you need, and we'll create copy that reaches out to your students and employees, offering them an educational and valuable read.

Other than visuals and audio, the copy of your e-learning project is exactly what communicates your message to your users, so make sure it is precisely written for your targeted locales.


Graphic Designing
An e-learning project with engaging visuals is superb, but an e-learning project with localized visuals is even better. At Pangea Global, we not only translate and localize words, but images and icons, too! We have the artistic and creative skills to communicate your educational message through a design that's tailored for all cultures and locales. Our graphic design services
aren't merely artistic and attractive – we add that extra special touch to make sure any imagery, colors, and layouts of your e-learning materials resonate to different customs and ideals.

From desktop publishing to individual graphic design, we get down to the finest detail and localize your imagery so that it is appropriate for a variety of cultures and languages.