Norwegian Translation Services

Language History
During the Viking Era, the Norse language was used in Norway and settlements like Iceland and the Faroe Islands. The Old Norwegian language evolved from several dialects and eventually lasted until the latter half of the 1300's. Middle Norwegian then developed and from 1536, and throughout the union with Denmark, Danish became the primary written language in Norway. It was in 1830 when a national debate about whether Norway should have its own language began.
After 1887, Bokmål was created, a Norwegian language that was used in schools. Another form of the written language, Nynorsk (New Norwegian) was developed, based on several Norwegian dialects. Today, Bokmål remains the official written language in Norway, while Nynorsk is used by 10-15% of the population. Both languages are taught in schools.
Get in touch
According to Babbel, Norwegian is spoken by a whopping five million people around the world.
Where is Norwegian Spoken?
Norwegian is the official language of Norway; however it is also spoken in other countries around the world such as the U.S., Canada, and Sweden.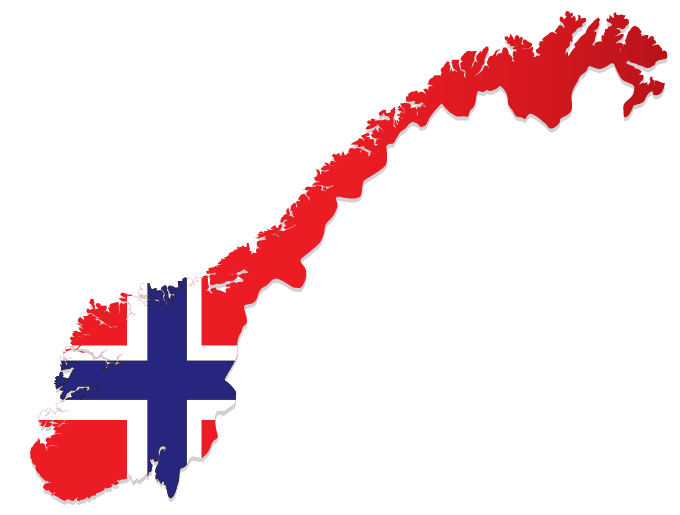 FACT
Not only are their dialects similar, but the Norwegian and Danish alphabets are exactly the same, too! They both feature the three letters: æ, ø and å.
The "t" of the definite article (det / -et) isn't spoken!
"Norwegians can easily understand Swedish and Danish. For this reason, the language is humorously referred to as the middle child amongst the three sisters."
Norwegian Dialects
Some of the most common dialects you'll hear from Norwegian speakers:
• Nynorsk    • Bokmål      • Eastern/Østlandet 
• Western/Vestlandet • Northern • Trøndelag
False Friends in Norwegian and English
4 Easy Phrases in Norwegian!
Population vs. Internet Penetration
Norway Population:
5,400,916
Internet Users:
5,311,892
Penetration:
98.4%
As of 2019. Source:
www.internetworldstats.com
FACT!
Did you know that Saami is also an official language in Norway? In fact, this
Nordic tongue
is considered an endangered language!
Norwegian Translation Tips
• Remember! Norwegian is a gendered language with three grammatical genders – masculine, feminine and neuter.
• Simple and easy! All conjugated verbs in Norwegian have an -r stem in the present form. Also, verbs do not change according to the subject.
• Bear in mind! Most Norwegian adjectives change according to gender, number, indefinite and definite forms.
• Don't forget! A Norwegian sentence usually has the following structure: subject – predicate – object.