Game Localization in 2022 – A Step-by-Step Guide
|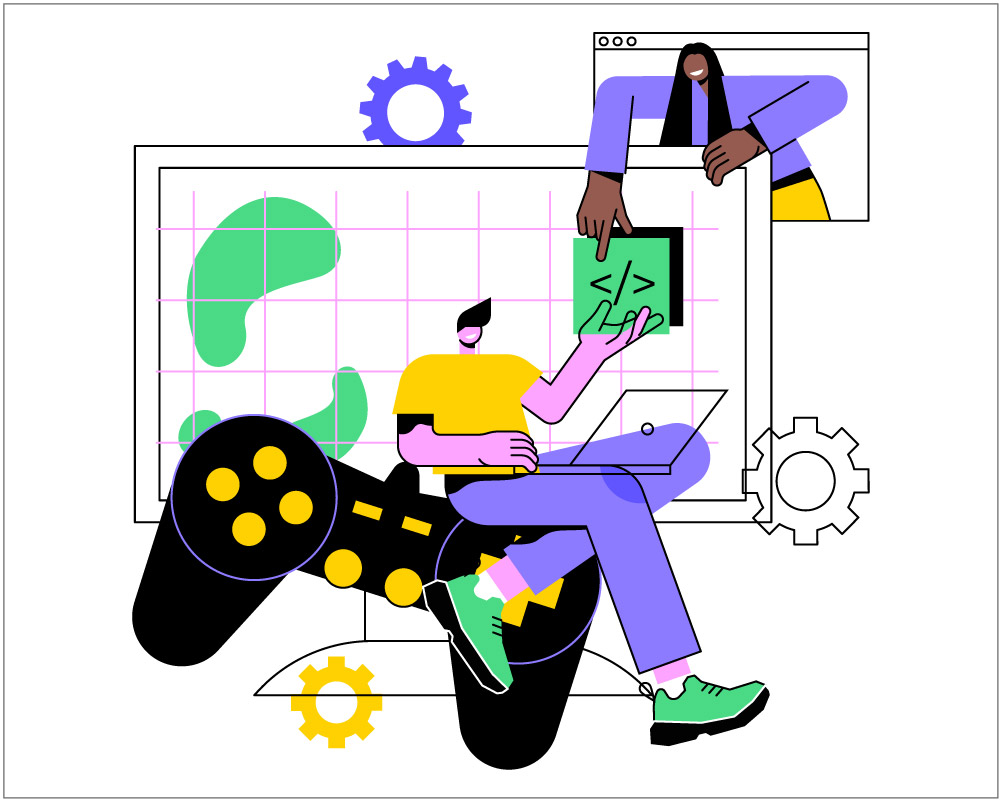 Games, games, games – they equally challenge and thrill us. Some of them caught the eye of filmmakers who turned them into blockbusters. Avatar, The Witcher, and the more recent Netflix hit, Squid Game, are only a few of the titles that saw the light of the screen. And they count an impressive number of viewers to this day.
But hey, Netflix also went into gaming, being the first streaming giant to enter this space. Among the titles available now on Netflix are Stranger Things 3, Arcanium: Rise of Akhan, Asphalt Xtreme, and casino-style games like Card Blast or sportive additions like Bowling Ballers. That said, game localization is crucial if you want to stay in the game.
But how do you win the game? Well, this is what this blog is all about – winning game localization with a clear strategy. So, pull up a chair and take some time to read or listen to this article.
Starting slow: defining video game localization
First, let us define the concept. Game localization is the process of adapting your video game to suit the visual, linguistic, and cultural expectations of audiences in a new region.
The process of localizing video games is pretty challenging and complex once you start breaking down all the stages of the process. Let's take a dive, shall we?
Going nice and rough into video game localization
While you may have a team of multilingual video game developers, testers, storyboard artists in-house, the chances are rare that you will be able to cover all the steps effectively. Therefore, hiring a video game localization agency is your key to success.
Before using any game localization services, you need to invest some time and effort in:
Creating a video game localization guide
The game localization guide is an essential tool to help translators and localizers understand the gameplay and the story behind it.
Also referred to as "localization kit" or "lockit", this guide serves translators as a unique source of truth about your brand, game style and tone of voice, characters, worldbuilding, and situational context.
It may seem like a time-consuming task (which it is, by the way), but necessary if you want translators to render the same immersive experience you created for players originally in another language. So, take your time with it; rushing won't do you or your game any good.

Exporting game content
As a video game developer, you must have already dipped your fingers in the big bowl of code. The next stage of your game localization process is importing your content string by string from your code. You will also need to compile them into resource files for translators to access. It's also worth checking for content translatability while you're at it.
For example, idiomatic expressions, humour or sarcasm cannot be conveyed by direct translation into another language. Any guidance you can leave for translators describing the context in which idioms, sarcasm, or humour are used is pure gold.
Remember, context is king, so giving as much of it as possible will point translators in the right direction.
Translate your video game
Once you have selected the game localization company for the job, share the lockit and the content files. It's best to set up a meeting with the agency and touch base on those parts of your content that may raise translation challenges. This will help translators understand the game logic and immerse themselves in it.
This initial stage of the game translation and localization process is critical because it will allow you to gain valuable insight into how the game localization agency works, its processes and how the translation team brings your game to life in another language.
Take it to the next level: localize contextual elements
While translating the "language" of your game is at the core of the game localization process, it is vital to localize the contextual elements of your game to suit the expectations of the audience it is intended for.
Suppose you localize your game for the Chinese audience. In this case, you will most likely need to change the race of your characters, location where the story is set, colours, and other design elements attractive to Chinese players. That's where the game localization company comes in.
Hiring native speakers of a multitude of language pairs and localizers (who are not only subject matter experts but also cultural "engineers" who know the mindset of your players), a game localization agency can help you navigate all the stages of your game localization process confidently. Their design and engineering team will bring valuable input when culturalizing your contextual elements – from characters to story setting. Remember, it's all about the atmosphere. And that's the art and craft of your game localization company – recreating the atmosphere of your game. To that end, the translators will also recreate character names and names of places in your game to give local players the feeling the story was written for them.
Piecing the game together
After completing the localization stage, with every element being translated and culturally adapted to the new locale, it's time to put it all in one piece. Be prepared to tailor your code to weave all the visual elements with the translated content. While you're at it, be sure to ask your game translation agency about voice-over services. Most likely, they will source the right voices for your characters. Then, test, test, test, patch and test again!
Game localization testing
We have spoken about game localization testing before, so we will only say this: It's time to play the localized game! After your game localization company proofread the content and synchronised it with what happens on screen and the characters' voices, have a game tester look at it. Ideally, the tester should also be a native speaker of your game's target language. If it all goes well, get ready for the big launch!
Your game localization agency in need
If you need help with the above, we have just the right solution. Pangea Global is a translation and localization company with vast expertise in video game localization.
Employing over 600 translation professionals, proofreaders, and copywriters around the world, we have what it takes to make your game playable in 75+ languages. Get your game on!