Game Localization – The Importance of FIGS Languages
|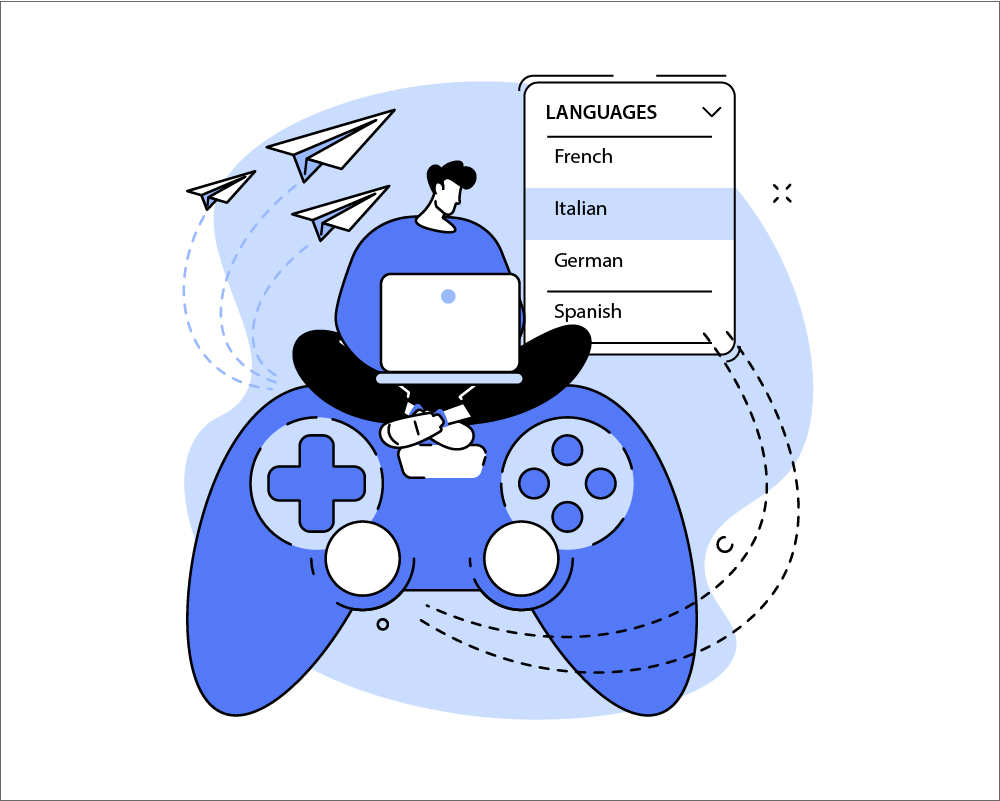 If you're new to the translation world, you may be wondering what is meant by the term "FIGS". No, we're not talking about the tasty fruit here, but rather, the abbreviation which stands for the four most common languages for translation and localization – French, Italian, German, and Spanish.

As a gaming brand or game developer, you may want to know which languages to approach for your target market. According to Newzoo, the FIGS languages still remain strong in the game translation and localization sector.
So without further ado, Pangea uncovers the top 4 languages and markets that are suitable for game localization.

French
Other than France, French is also widely spoken in countries such as Belgium, Luxembourg, Monaco, Switzerland, Canada, Haiti, Madagascar, Mali, Nigeria and many more.

In terms of gamers, Newzoo reports that 68% of the population in France are regular gamers. In fact, it's the 7th biggest games market in the world – in 2020, gamers in France contributed a whopping $4.4 billion to the industry.

If you're looking to attract the French market, bear in mind that PC is the most common platform for gaming in France as well as mobile. Also be sure to select the correct format whether it is France French or Canadian French. If you're confused by this, feel free to discuss it with our project managers!



Italian
Besides Italy being the official home for Italian, this language is also used in countries like San Marino, Switzerland, Vatican City, Slovenia and Croatia.

According to EF, it has been reported that Italian's English proficiency ranks at 30 out of 100 countries. In other words, not many Italian citizens have great proficiency in the English language – this further highlights the requirement of Italian translation and localization for your gamers.

GameIndustry.biz and Newzoo report that the Italian gaming market reached $3 billion with 35 million gamers in 2020. This makes one-third of Italy's population gamers. PC and mobile are once again the most popular platforms and the top three game genres are action games, shooters and sports games such as FIFA.

German
German is a prominent language in Europe and is mainly used in countries such as Germany, Austria, Switzerland, Liechtenstein, and Luxembourg. Although Germans have high proficiency in English, gamers would undeniably be more attracted to your game if it was served in their language.

Believe it or not, German actually has the largest video game market in Europe. Newzoo and G.A.M.E. Association claim that it is the fifth biggest market in the world with $6.6 billion generated. It boasts an extravagant 45 million gamers.

Mobile games are the most popular, however other channels such as YouTube and Twitch tend to attract gamers too, which makes the requirement of video translation and localization even more necessary.



Spanish
With Spanish being dubbed the second most-popular language in the world , it only makes sense that game localization in this language is a must. It also happens to be the third most used language on the internet after English and Chinese.

Spanish is spoken by 450 million people in countries including Spain, Mexico, Colombia, Argentina, Peru, Chile, and more. The language is split into EU Spanish and Latin Spanish. EU Spanish can be heard in Spain, while Latin Spanish is used in the Latin American market. If you're interested in Spanish translation, our project managers can direct you to the most suitable linguist for the role.

Newzoo dubs Spanish the 10th biggest gaming market in the world, which brought a total revenue of $2.9 billion in 2020. Spain in particular, has 27 million gamers alone.

Mobile precedes all gaming platforms as the most popular, while console games have also gained dominance in the Spanish market.

Are you eager to start your career in game translation? Check out available opportunities on Jooble and get started today.
If you are interested in localizing your game or mobile application into one of the FIGS languages, get in touch! We've got over 100 native linguists and localizers ready to take your project on board!