Top Trends Shaping the Translation Industry in 2022
|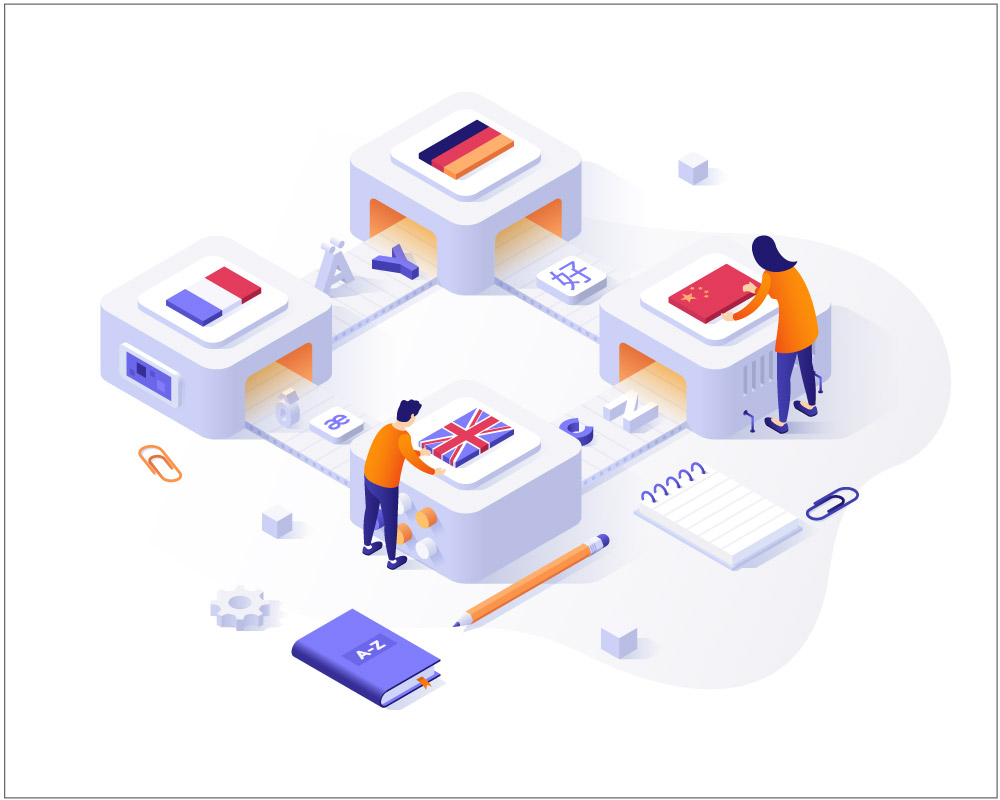 The world is changing. That's not new. What's rather old-new is that the translation industry is also shapeshifting. We racked our brains here at Pangea Global on what the future of the translation industry will look like, not just in 2022 but also in the years to come. What our brainstorming led to is as intriguing as it is fascinating. Here we go.
Delving deeper into the matter, it all comes down to a continuous "cold war" between man and machine. Will the robots take over the world? Careful what you wish for. (It may happen).
It will never be the same…
Joke aside, today's translation agencies will not be and do the same tomorrow. Considering the ongoing development of translation technology, AI, the language services industry will be torn between technology and creative networks, data factories, and storytelling (lest we forget). This is not to say that translation agencies will change their modus operandi. Instead, they will split or add new functions in their workflows. Does this ring any bells? You may be thinking about the paradigm shift that took the marketing and advertising industry by storm. Once at the confluence of art and consumerism, it gained its place in the economy of process automation. Today, decades after data affluence drove marketing to new heights, advertising giants like Ogilvy, DDB, and many others changed the way they work forever.
If marketing is automated and driven by data and algorithms, why would translation – which is a great part of marketing – be any different? The rise of tech companies like Google and Facebook has changed the game for marketers. Advertising legends like Saatchi and Saatchi, McCann Erickson, J. Walter Thompson stand today as a wistful reminiscence of the good old days of Mad Men, whose creative directors report to behemoths like Omnicon, WPP, Interpublic, or Publicis.
Mergers and acquisitions like these may also migrate to the smaller industry of translation services. If not in 2022, in five years, it may very well happen. In that case, a confluence with the creative sector already dominated by data would become the new mainstream.
But before we get there, let's take a deep dive into what we've carefully broken down into chapters, each of which is a piece in the big puzzle of the future of the translation industry.
1. Algorithm-driven translation management
Gradually, machines will become just as good or better than humans in a wide range of sectors, including translation. Algorithms entered the language realm almost unwittingly, with the introduction of word count for the document to be translated. Since then, it has grown into translation memories like MemoQ, LQA systems, project management systems, and other tools designed to make a translator's life easier and optimise workflows.
2. BIG DATA
Soon enough, translation will be datafied. Yes, it says "datafied". The concept of "datafication" emerged from an article praising the effectiveness of data, written by three Google engineers, Fernando Pereira, Peter Norvig, and Alon Halevy, in the early 2000s. The touted idea there is that translation can be taught by data. This is how Google Translate emerged. The English-to-French machine translation algorithm was taught 100 billion words. Nowadays, we have Neural MT, which makes large data sets history.
Market research leader CSA Research suggests that MT will see significant improvement in terms of intelligence as of 2022. Machine translators have become increasingly able to capture data such as the age and gender of the translator (or speaker, if we speak about speech-to-text translation). They will also become more apt to translate and understand metadata and context. So, higher quality MT is underway.
3. Collaboration, not war between man and machine
Fear not; the era of the machine is not here yet. Instead, we expect an increased collaboration between man and machine for the greater good of translation quality. Despite the remarkable advances neural translation has made, it still isn't perfect. Therefore, combining the best MT solutions with human skill and intelligence will also lead to innovation, speed, and a high-quality translation service offering.
This human-machine solution, or as we call it – transhumanization – will challenge the status quo, enabling translators to work faster and smarter, accept more projects, and clients enjoy lower translation costs.
In turn, more emphasis will be placed on localization and studying client behaviour as transhumanization comes to the fore. With more data at their disposal, businesses will be able to tailor their offering more efficiently and grow their user base exponentially.
4. Speech-to-speech translation
According to language data network TAUS, Speech-to-Speech translation technology will come to the mainstream in the next five years. Skype Translator and the wearable translation devices developed by Japanese company Logbar are just the beginning of the new era for translation services. People's laziness (no offence, by the way), their shorter attention span and preference for listening than reading or writing are some of the "qualities" we have to thank for ushering in this new era for translation and interpreting services or, shall we say, translation technology?
Bottom line
Dystopia aside, machine translation is here to stay. Solutions like the ones above mentioned have definitely made a statement. In this tech-driven economy, we, as service providers, need to continue to improve, learn how to master data, and leverage technology to provide better and smarter translation services.