Your Guide to eLearning Localization
|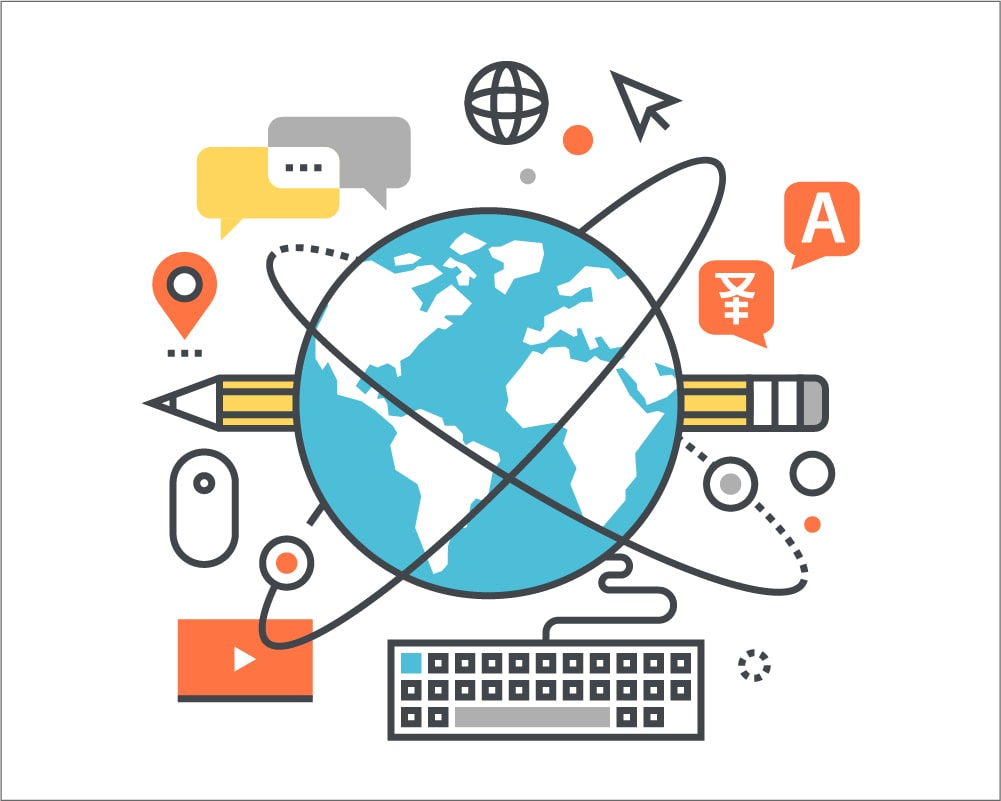 E-Learning has been gaining in popularity due to its high accessibility, flexibility, and success rate. The covid-19 pandemic period has clearly shown that e-learning is as reliable as any other form of corporate training and learning programme. The number one upside to eLearning is that it's accessible at any time and from anywhere. This way, one can easily squeeze in an eLearning programme in their daily work routine.


But is that all? Not really! The good news is that eLearning platforms are gradually adopting the concept of e-learning localization. But, what does that really entail? Well, let's find out!

What is eLearning Localization?
This is the process of translating eLearning content into different languages to meet the global market's linguistic requirements. Of course, when an eLearning platform is looking to sell its services overseas, it goes without saying that it will have to localize its content to adapt to the varying dynamics of the international consumer market.


That's where localization services come in. eLearning localization services providers like Pangea Global work towards translating and transcreating eLearning programmes. The primary objective is to make the services available to all potential consumers across the globe.


How to Find the Right LMS Suitable for Multilingual Courses
eLearning software developers offer a plethora of Learning Management Software solutions you can choose from. Some of the LMS providers to check out when offering commercial eLearning services include Blackboard, Desire To Learn, SumTotal, eCollege, and Saba.


However, when working with a lean budget, there are a handful of free open-source LMS solutions such as Moodle, ATutor, Dokeos, Sakai, and Claroline. Although these free alternatives are cost-saving, buying a commercial LMS software comes with a ton of advantages, including extended functionality, more features, and unlimited support.


But before you even go down that road, you need to ask yourself: is your eLearning content adapted to your target market? LMS can only leverage your efforts after the localization step has been completed. That's where eLearning content localization comes into play.


eLearning Content Localization
eLearning content localization is the baseline of the entire process. When offering eLearning services, you are in the business of educating people -at a cost, of course. As such, you will have to create content that sells well to the target market.


When targeting an overseas market, you will have to localize your eLearning content to suit the local market's needs. This means translating your courses into different languages and tweaking them accordingly to adopt the locals' culture.


There are stages to eLearning content localization. These stages are:


1. Defining Your Target Markets
Even before seeking the services of eLearning localization providers, you should first identify the languages of all your target markets. With that in mind, it becomes easier to define the scope of your localization needs.


2. Content Creation
Any content that you create for a specific target market has to be relevant to that demographic. When it comes to the international market, what's good for the goose isn't always good for the gander! What we are trying to say is that content that is relevant to the U.S market could be irrelevant to the Indian market, for example.


3. User Interface
Remember that you are in the business of trading knowledge. To sell, you will have to invest in making sure that you offer an unmatched user experience. One way of achieving this is by optimising your user interface to serve the locals better.


This is very vital because you do not want to have great content that does not sell, or one that customers cannot access with ease.


4. Audio Content
If your eLearning content includes audios, those too need to be localized. This is why you will need to hire professional eLearning localization services.


5. Graphics and Images
Most eLearning platforms tend to overlook images, but that can turn out to be a mistake with dire consequences. Images and graphics are as important as text. As such, these elements need to be well adapted for each language.


How to Choose a Professional LSP to Work on Your Translation 
When working towards localizing your eLearning programme, you want to work with professional language service providers such as Pangea Global. There are numerous translation service providers to choose from.


To find the best professional LSP for your project, some of the elements to factor in include:


Mapping your translation project – This gives you a clear vision of what needs to be done.


Quality – You are looking for a company that can deliver premium content translation and transcreation.


Price – It doesn't hurt to save a dollar, does it?


Testimonials – Reviewing what other clients have to say about the LSP will also help in informing your decision.


Get Started with Your eLearning Localization Project 
Pangea Global offers expert localization services to businesses looking to transcend international borders. Our services range from web & app localization to content translation to professional copywriting. Contact us to get started with your eLearning localization.